Solar-Powered Industrial and Commercial Fans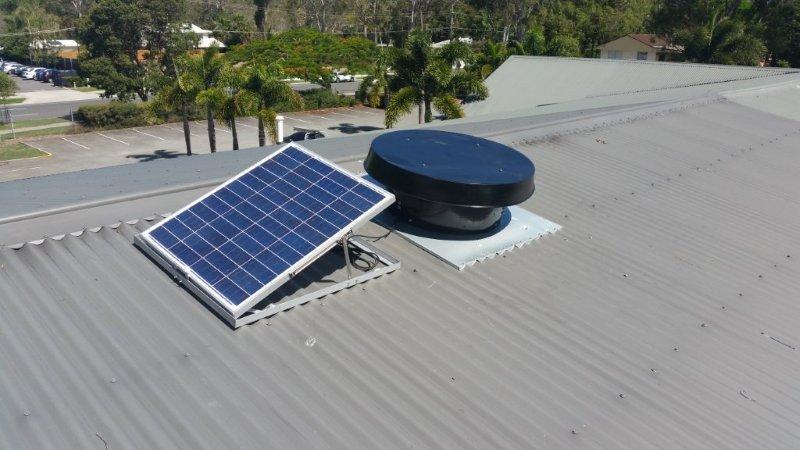 With our experience in residential roof ventilation, GES developed a powerful range of solar commercial exhaust fans that are ideal for warehouse ventilation and factory ventilation.
If you are in the market for an exhaust fan for residential roof ventilation. Please have a look at the residential Solar Whiz roof ventilation exhaust fans.
Commercial Exhaust Fans
Commercial fans are used both for heat extraction and for extracting fumes.
Solar Whiz has installed commercial fans in a variety of sports facilities including basketball stadiums, gymnasiums and swimming centres. Our solar-powered exhaust fans are also hugely valuable for industrial buildings like sheds, schools, offices and storage facilities.
More information on commercial ventilation and other large areas can be found on the Solar Whiz roof ventilation website.
Industrial Exhaust Fans
Solar Whiz industrial exhaust fans are an ideal solution for ensuring good air quality in factories and other industrial buildings. Our fans have been installed as powerful roof ventilation fans in many different industrial applications, including workshops and factories. Solar Whiz commercial fans effectively ventilate & remove fumes from cars, smelters, welding, etc.
GES installed a system for MasterForm Systems Pty. Ltd. in Preston, Victoria, which has improved the health, wellbeing and safety of workers significantly. You can read more about the installation and its results on our Solar Whiz site.
Industrial Extractor Fans
These days many factories and repair shops are required to have effective ventilation on their premises. Solar Whiz industrial extractor fans are a highly efficient and cost-effective way to make sure that health and safety requirements are being met in the workplace.
Industrial & Commercial Ventilation
Despite what most people think, industrial ventilation and commercial ventilation does not have to cost a fortune to install or to operate. In fact, GES' Solar Whiz – solar exhaust fans and industrial extractor fans can be run completely free of cost!
If you need the fans to be running at maximum capacity all day Solar Whiz also offers day/night packs for industrial exhaust fans. The system is then connected to mains power and can draw only what it requires to keep the fans running at full power. The day/night pack can also be used to power the system overnight.
Efficient Solar-Powered Exhaust Fans
Our solar commercial exhaust fans are not just free or inexpensive to operate. They're also very good at what they do.
Our units are one of (if not the most) powerful commercial fans available. Our fans have a capacity of 10000 cbm/h, which is significantly higher than the majority of alternative fans on the market. Most of our competitors can't offer exhaust fans that move more than 3000 cbm/h! In our opinion, that's a pretty strong reason to invest in Solar Whiz!
Bradfords Ecopower Fan
At GES, we're only aware of one other brand in Australia offering commercial exhaust fans with a capacity that matches our own: Bradford's EcoPower fan. As far as we know, only Solar Whiz and Bradfords offer fans that have a capacity of 10000 cbm/h. However, the EcoPower fan is available at about twice the price of a Solar Whiz solar-powered exhaust fan.
The EcoPower fan is a powered commercial exhaust fan, unlike Solar Whiz, which is solar-powered. The EcoPower is a hybrid fan combines wind power and electronic power. If there is sufficient wind-power then these power is required to run the fan.
At GES we believe that wind power is a far less effective than solar power. We also find that ventilation is most important on hot, still days. This means that when you need it most, Bradford's EcoPower fan will be operating almost entirely on power, costing you in the long run.
In conclusion, Bradfords may offer a product that matches Solar Whiz incapacity, but it is more expensive and far less cost-effective than our product. That means that you have to pay twice as much for the base unit, and then for the ongoing cost of operating it!
Looking for commercial and industrial fans Brisbane?