SAM for Drying Room or Drying Cupboard
Solar Heater for Clothes Drying
The Solar Air Module (SAM) unit is the ideal product if you would like to establish a drying cupboard or drying room in your home. A solar powered drying room is free to operate and will reduce your energy costs substantially – especially if you are in the habit of using a clothes dryer regularly. SAM is an ingenious maintenance free device that uses the sun to warm the air in the solar heat collector and allows you to duct this warm air into the specified location, such as a drying room, enabling you to establish your own solar clothes dryer. For the most effective result a second solar fan will normally be installed to help remove moisture from the drying clothes.
Solar Clothes Dryer
The concept of the Solar Drying Room was first demonstrated on the popular ABC TV Show: The Carbon Cops back in 2007. By installing a solar drying room, the Carbon cops showed that it was possible to keep up with the drying requirements of the family with their new "Solar Clothes Dryer"!
Solar Drying Room or Solar Drying Cupboard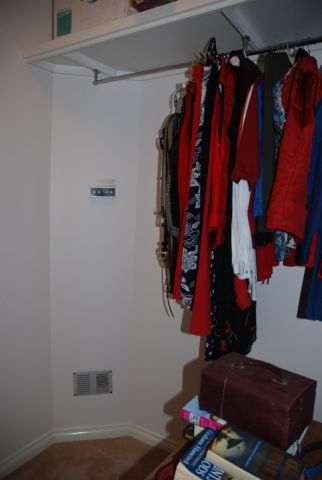 The Carbon Cops proved that clothes can be dried fast and effectively with a solar air collector/solar heater. Supplying fresh warm and dry air into the drying room area (or drying cupboard) will not only reduce energy consumption, but is also extremely convenient for the family.
You can read more about the Solar Drying Room in the Carbon Cops Fact Sheet.
Our Solar Air Collectors can also be used for drying cupboards and are very effective to prevent mould on clothes, shoes and other leather goods in walk in ropes.
Read more about Solar Ventilation here or go directly to our SAM solar heating and solar drying room or drying cupboard page here.