Solar Skylights – Daylighting Alternative with Solar Lights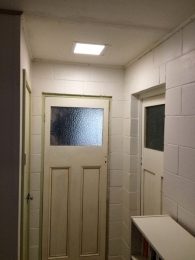 Solar Skylights are a great daylighting alternative to traditional solar lights. Solar Light Whiz solar lights offers many advantages over the traditional tube style skylights such as:
Shaftless solar skylight – No need to install a shaft or solar tube
Inexpensive and simple solar light installation – suitable for DIY
Ideal solar light solution for multi-storey buildings and hard to reach areas
Solar powered lights – no power consumption – unless you want to use LED light panel at night
Designed for DIY – no mains power – no electrician required to install your solar skylights
Heat or noise doesn't travel through the solar skylight, solar tube or shaft into the building
Solar skylights mimic conventional skylights/daylighting installations
Optional night time operation – use your solar skylights/solar powered lights at night
Illume Daylighting Alternative – Solar Skylights
Solar Light Whiz is a great Illume daylighting alternative. Solar Light whiz offers greater flexibility, more lumens and a more comfortable daylighting simulation than the more well known Illume daylighting system. However, at a comparative price and easier installation, including simple wiring from one single solar panel to multiple solar lights. Solar Light Whiz is an easy choice when considering solar skylight alternatives like Illume and Solaro or traditional skylights of the tube style.
Solar Lights – Solar Powered Skylights
Solar powered lights are great for daylighting in rooms with limited natural light such as:
Corridors & Hallways
Entrances
Stairwells
Internal toilets & bath rooms
Pantries
Laundries
Kitchens
Solaro Daylighting Alternative – Solar Lights
Solaro daylighting solar powered lights have been around for a while, much longer than Illume, but are expensive and don't offer flexibility when installing. The benefits of solar skylights is that they are cheaper, can be installed on ANY home and allow you to operate the solar LED lights at night with a night pack. You can even get a dimmer, which enables you to dim or turn off the lights during the day.
Solar Lights & Solar LED Lights – Night Operation
Solar Light Whiz focus on Solar Skylights, however, our solar lights may also be used at night if you add a night pack to the solar LED lights.
Follow the link to view/download more information in the Solar Light Whiz smart solar skylights brochure.