Sub Floor Ventilation Systems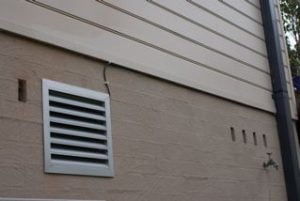 Effective ventilation of the underfloor area is essential to the health and longevity of any building with a sub floor area.
Unfortunately, not all homes and buildings can achieve the necessary ventilation under the floors through passive, natural ventilation. These houses require additional mechanical ventilation to control humidity. Solar powered sub floor fans are the most effective way to ventilate under floor areas.
High humidity levels in sub floor areas result in a dampness, which will cause mould, rotting floor boards, rotting stumps, fungi growth, odours and musty smells which can then make their way into the house. Moist sub floor areas serve as the perfect breeding grounds for termites, white ants, fungi and wood borers. It is therefore of utmost importance to protect your house by ensuring good under-floor ventilation. A well ventilated sub floor should also prevent rising damp from developing.