Solar Whirlybirds Roof Ventilator
The Solar Whiz solar roof ventilator unit is 10-30 times more powerful than your average whirlybird! Our whirlybird alternatives are available in 4 different sizes:
Solar Roof Ventilators
SW-RAF700 (SW 900) – Moving 700 cubic metres of air per hour
SW-RAF900 – Moving 900 cubic metres of air per hour
SW-RAF1400 – Moving 1400 cubic metres of air per hour
SW-RAF2100 Moving 2100 cubic metres of air per hour
In comparison, the average whirlybirds struggle to move up to 100 cubic metres of air per hour, which contrasts the huge capacity difference – even for one Solar Whiz unit. Imagine the difference you will feel after installing one solar exhaust fan on your home!
Cool Your Roof Space with Our Solar Roof Ventilator
The Solar Whiz solar whirlybirds roof ventilation system has $0 running cost and only relies on the sun to cool your roof space. The fan draws hot air out of the roof space and your home and introduces fresh, cool air. The Solar Whiz is completely powered by solar energy and provides effective roof ventilation on sunny days, helping you control the temperature in your home.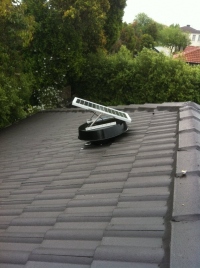 Did you know the temperature in your roof can get as high as 60 degrees? Check out our energy efficient air conditioning alternative animations.
Imagine what that heat build up in your home does to your cooling and A/C bills!
The Solar Whiz roof ventilator system uses heat extraction and roof ventilation to effectively minimise the heat build up in your house. It's much more powerful than whirlybirds and unlike a whirlybird, it is controlled by the sun. This means that on those stifling hot summer days when there's no wind, a wind-driven whirlybird wouldn't be able anything. But, the Solar Whiz will work extremely effectively all day, utilising the sunlight to cool down your home.
The solar roof ventilator unit removes heat from the home like whirlybirds, but at a much faster rate – enabling a more effective roof ventilation process.
Installation and Use
Whether you own a two storey home or a single storey home, ease of installation makes Solar Whiz roof ventilators are ideal for DIY or you may organise installation via one of our dealers. Either way, a Solar Whiz roof ventilator can be installed in almost any home, regardless of design, to help you stay cool over summer. Installing and using our whirlybirds alternative is extremely easy and simple.
Thermostat
A major benefit of the Solar Whiz unit which many of our customers prefer over your average whirlybird (apart from the huge airflow capacity) is the ability to have the units run when you want them to. The Solar Whiz unit is able to start and stop at whatever temperature you choose to set it to. Our adjustable thermostats can set the start temperature at whatever temperature you like. For example, if you set the thermostat at 25 degrees, as soon as the temperature edges over 25 degrees the solar roof ventilator will start running! Unlike the whirlybird which has no way to control starting or stopping.
Whirlybird Installation
Solar whirly bird installation is very similar to traditional whirlybird installation. The flashing is similar and fitting the solar whirlybird onto the flashing is faster and easier than a conventional whirlybird installation – because you don't need to level the roof ventilator.
Use the below links for detailed instructions for Solar Whirlybird installation and videos showing Solar Whiz roof ventilation installation on both tile and tin roofs.
If you have any other questions regarding the Solar Whiz whirlybird roof ventilator alternative you can find full details at www.solarwhiz.com.au or call us on 1300 655 118